For the past couple of years I've been offering carriers to modular factories across the United States and during that time I've been hearing horror stories about carriers that are currently owned and used by modular home and commercial factories, none of which are my carriers.
Check out the number of spare tires on the back of the truck!
The carriers owned by almost all the modular factories are usually locally produced and use HUD axles and tires. There is no standardization. Some factories own hundreds of these carriers.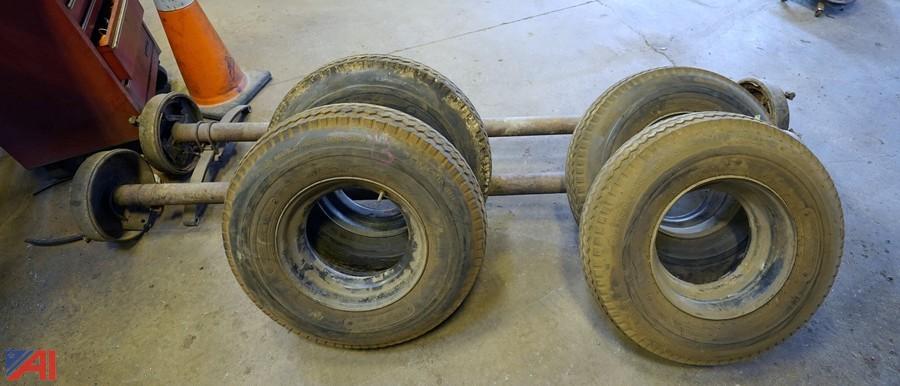 I recently visited a modular factory where more than a hundred carriers were piled up waiting for repairs to the frame, new HUD axles and tires. Those HUD axles and tires are meant for one way use by manufactured home factories before being removed and resold back to manufactured home factories.
They are not expected to be used year after year and they don't have the weight load rating needed to haul a 40,000 pound IRC or Commercial module. That is why you may see carriers with 8, 10 and even 12 HUD axles and tires on many modular carriers.
Problems occur when those carriers have to make sharp turns in a town or city where only the center axles pivot and the other tires are dragged along the street peeling off the tread.
To recap the problems of modular factory carrier problems:
The carriers are usually made locally to no industry standard

They use HUD axles and tires which need repaired or replaced frequently

The carriers need extra axles and tires to handle large loads

The cost to keep those carriers safely on the road is huge for some factories
The carriers I offer are different in that they are built using heavier frames, better axles and tires (even though you can order those HUD axles if you want them), offer many options including pneumatic lifting systems, outriggers, expanding chassis and much more.
Are they cheap? Absolutely not! "The cheap is always more expensive"
In order to help begin replacing your current HUD based carrier fleet with this better grade of carrier, I have secured a leasing company that will help finance as many as you need.
To learn more about the Modcoach line of carriers, CLICK HERE